Decoding the Maya-Matrix
October 22, 2016 @ 7:30 pm

-

11:55 pm
Event Navigation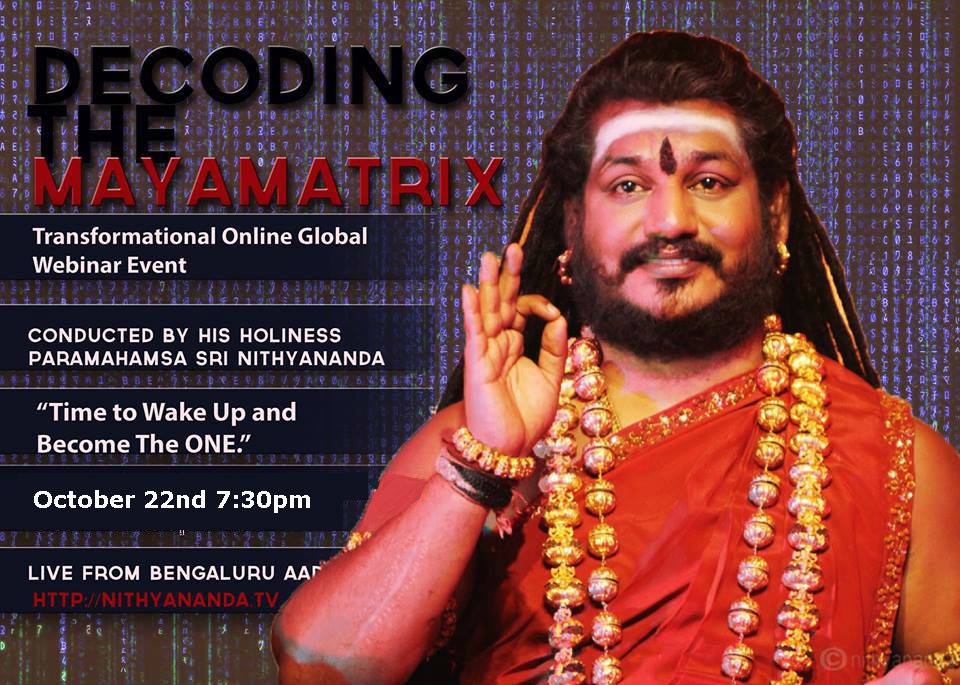 https://inner-awakening.leadpages.co/matrix-webinar/
"Decoding the Maya-Matrix"
by The Avatar, Sri Paramahamsa Nithyananda
(No Charge)
Tune in for a profound and reality-shifting commentary by The Avatar, Sri Paramahamsa Nithyananda himself. Swamiji will reference the philosophy behind the movie "The Matrix" which is based on the Hindu idea of Maya in which we live… and explain how to decode, manipulate, wake up & go beyond it!
Sign up to watch this reality-shifting webinar and learn:
– What are the components of the maya-matrix
– How to "test" your own reality to confirm whether you are indeed under the maya-matrix
– How to tell whether you are in control, or the maya-matrix is in control of you
– What is 'Sadashivoham', and what does it have to do with the maya-matrix?
– How to break open the maya-matrix, and become The ONE
Saturday, Oct 22, 7:30pm @ Nithyanandeshwara Hindu Temple
Invite your FAMILY and FRIENDS to the FREE transformational event!
Please register at: https://inner-awakening.leadpages.co/matrix-webinar/