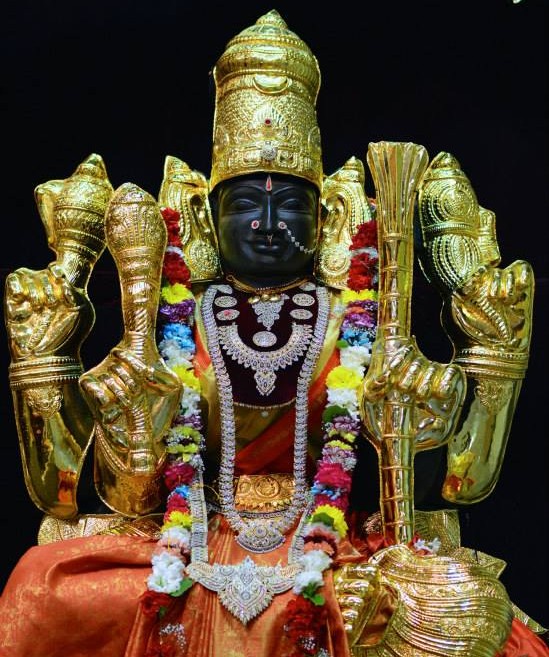 Rajarajeshwari is the focussed form of all Gods and Goddess ; the sum total of all energies of the Cosmos. She is care, love, mercy and grace intensified. Rajarajeshwari is known as Avyajakarunamurthy Merciful without any reason.
The scriptures describe Her to be seated on a Simhasana, upon Lord Sadashiva – the Cosmic Consciousness whose legs are Lord Brahma, Rudra, Indra and Vishnu. Also She is fanned by Goddess of wealth – Lakshmi and Goddess of Learning – Saraswati. She is depicted to be worshipped by all the 330,000,000 Devas and Lord Ganesha and Subrahmanya.
The Sri Chakra and the Maha Meru are the mystical figures and forms of the Devi Rajarajeshwari.
The other names of Rajarajeshwari are Sri Vidya, Lalitha Parameswari, Maha Tripurasundari, Shodashi, Kamakshi,etc.
Rajarajeshwari Brahmotsavam
Rajarajeshwari Brahmotsavam is the Cosmic celebration of the grace and mercy of Devi Sri Rajarajeshwari. During this Brahmotsavam all the Gods and Goddesses join together to celebrate the love, care, mercy and grace of Cosmic Mother who protects and nourishes us.
The Rajarajeshwari Brahmotsavam falls every year ten days before the Masi Magham which usually falls during Feb-Mar. Masi Magham is one of the most auspicious days of the year when the energy levels of the planet Earth is most conducive to receive the grace and blessings of Cosmic Mother Rajarajeshwari.