Spiritual Laws of Action – 2 Day Workshop June 10th & 11th
June 10, 2016 @ 7:30 pm

-

June 11, 2016 @ 11:30 pm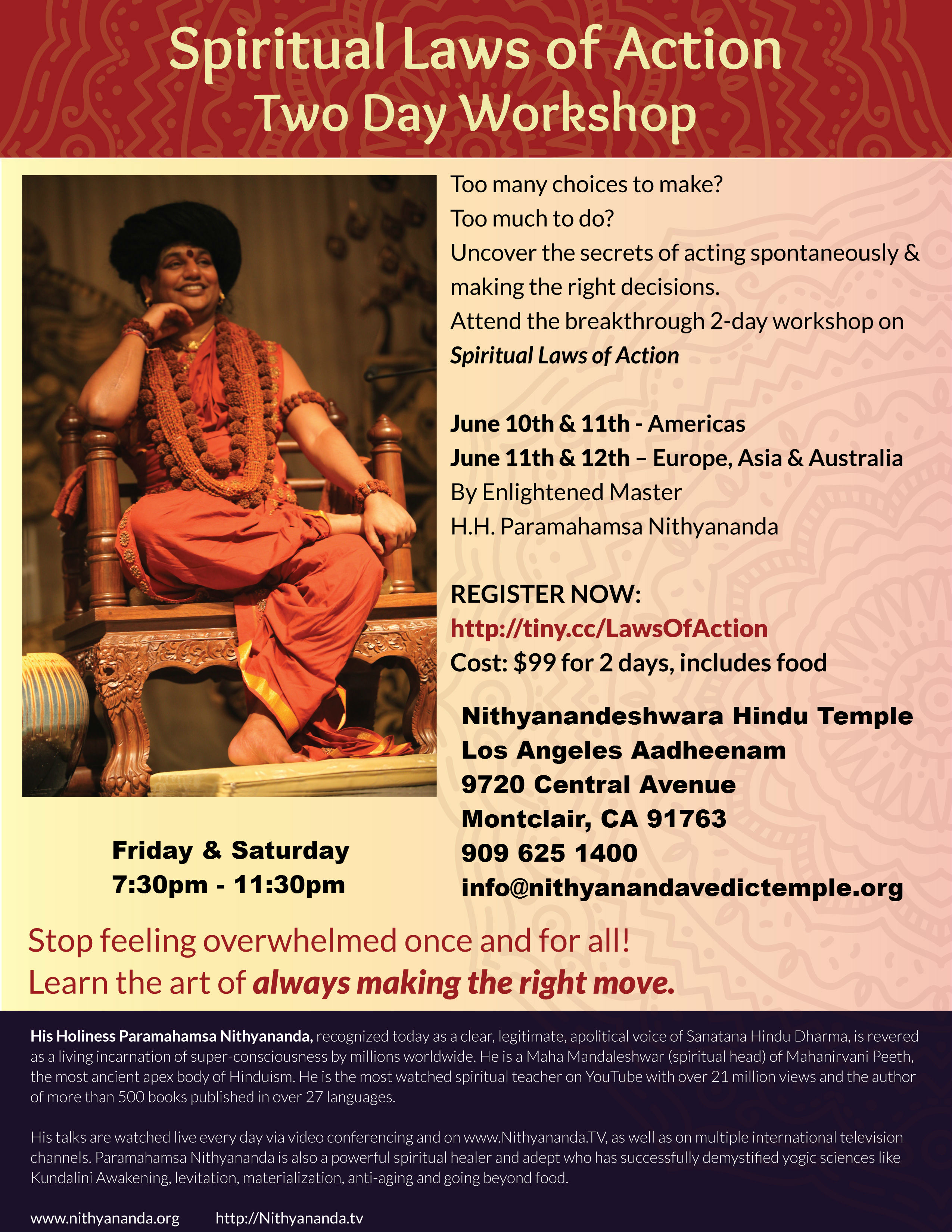 Spiritual Laws of Action

There are moments in your life when you are faced with a choice…

And you career, relationships, your life depends on your decision.

Are you ready for that moment when it comes?

 
What's the toughest decision you have to make in your life right now?
You know… the one that makes you anxious just thinking about it?
Introducing….
The brand new 2 day Workshop that will help you achieve whatever you want, both inside (spiritually) and outside (materially) by mastering the spiritual laws of action… directly led by Enlightened master, Nithyananda.
Paramahamsa Sri Nithyananda will be revealing the ancient and mystical secrets on the Spiritual Laws of Action directly from the Agamas, ancient scriptures from the Vedic Tradition which hold the key to all the questions we have, and will have in life.
Paramahamsa Sri Nithyananda 
has been named among the world's top 100 most spiritually influential personalities of 2012 by Watkins' Mind Body Spirit Magazine, alongside Dalai Lama and Oprah Winfrey. Nithyananda is the most-watched spiritual teacher on YouTube.com with more than 19 million views, the author of more than 300 books published in 27 global languages.
Break through 2 day workshop conducted 
June 10th & 11th  (North America) 
REGISTER NOW
Workshop tuition: $99
We are very pleased to inform you that there are several centers available and hosting the event:
Montclair : Nithyanandeshwara Hindu temple – Contact 1(951)236-6460
East Los Angeles Satsang Center – Contact 1(323)519-9373
San Diego Satsang Center – Contact 1(321)292-2528
WHEN:
DAY 1:

Friday June 10th 
7:30pm -11:30pm Pacific Time
DAY 2:

Saturday June 11th
7:30pm -11:30pm Pacific Time