WORLD ENVIRONMENT DAY
June 3, 2017 @ 7:30 pm

-

11:30 pm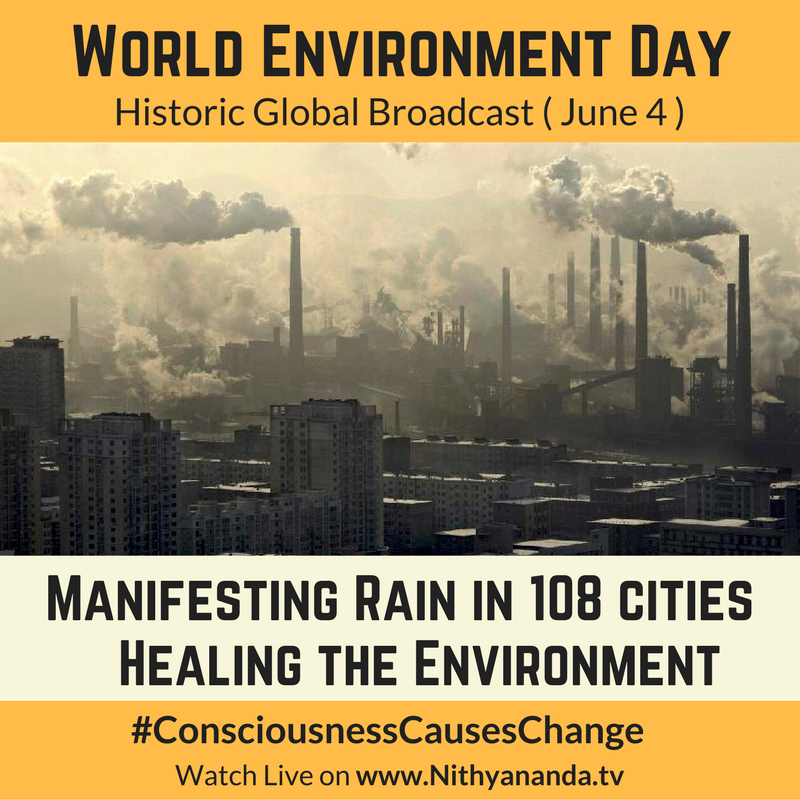 How much more abuse can Mother Earth take??
Now be a part of the change.

Join online for a HISTORIC global broadcast on WORLD ENVIRONMENT DAY
with His Holiness, the Avatar Paramahamsa Nithyananda…
Swamiji will give a special talk on the future of healing the environment using spiritual powers (Shaktis) followed by a special worldwide Initiation you will receive, and culminating with a Demonstration of manifesting rain in 108 places around the world.
Watch this HISTORIC worldwide event –
SIGN UP to watch the FREE live stream at:
==> https://inner-awakening.lpages.co/world-environment-day/
TIMING:
(Asia) June 4, 2017 at 8:00am IST
(Americas) June 3, 2017 at 7:30pm PST
Moving away from nature is the source of conflict without ourselves, and with the environment.
Because we are an extension of nature. Everything we think and do affects the world around us.
All our suffering is from constantly moving away from nature, and losing touch.
Now see how the power of CONSCIOUSNESS can bring healing and change to the environment.
Watch in this free LIVE historic broadcast as His Holiness, the Avatar Paramahamsa Nithyananda conducts a special initiation and raises the Kundalini energy of every participant and viewer worldwide, to a higher level for healing the planet earth, culminating with a demonstration of spiritual powers to make it rain in 108 places worldwide on World Environment Day.
Watch this HISTORIC worldwide event –
==> https://inner-awakening.lpages.co/world-environment-day/
Schedule:
8:00 AM IST: Special Satsang by Avatar HH Paramahamsa Nithyananda on Manifesting shakthis on environment
9:00 AM IST: Vedic Initiation (Shivoham Process)
9:30 AM IST: Demonstration of manifesting rain in 108 places around the world
9:50 AM IST: About Inner Awakening & Swamiji's Mission for Humanity
Closes by 10 AM
Link to sign up:
==> https://inner-awakening.lpages.co/world-environment-day/