Be Your Own Boss: Manifesting Leadership Consciousness
March 31, 2017 @ 7:30 pm

-

April 1, 2017 @ 11:30 pm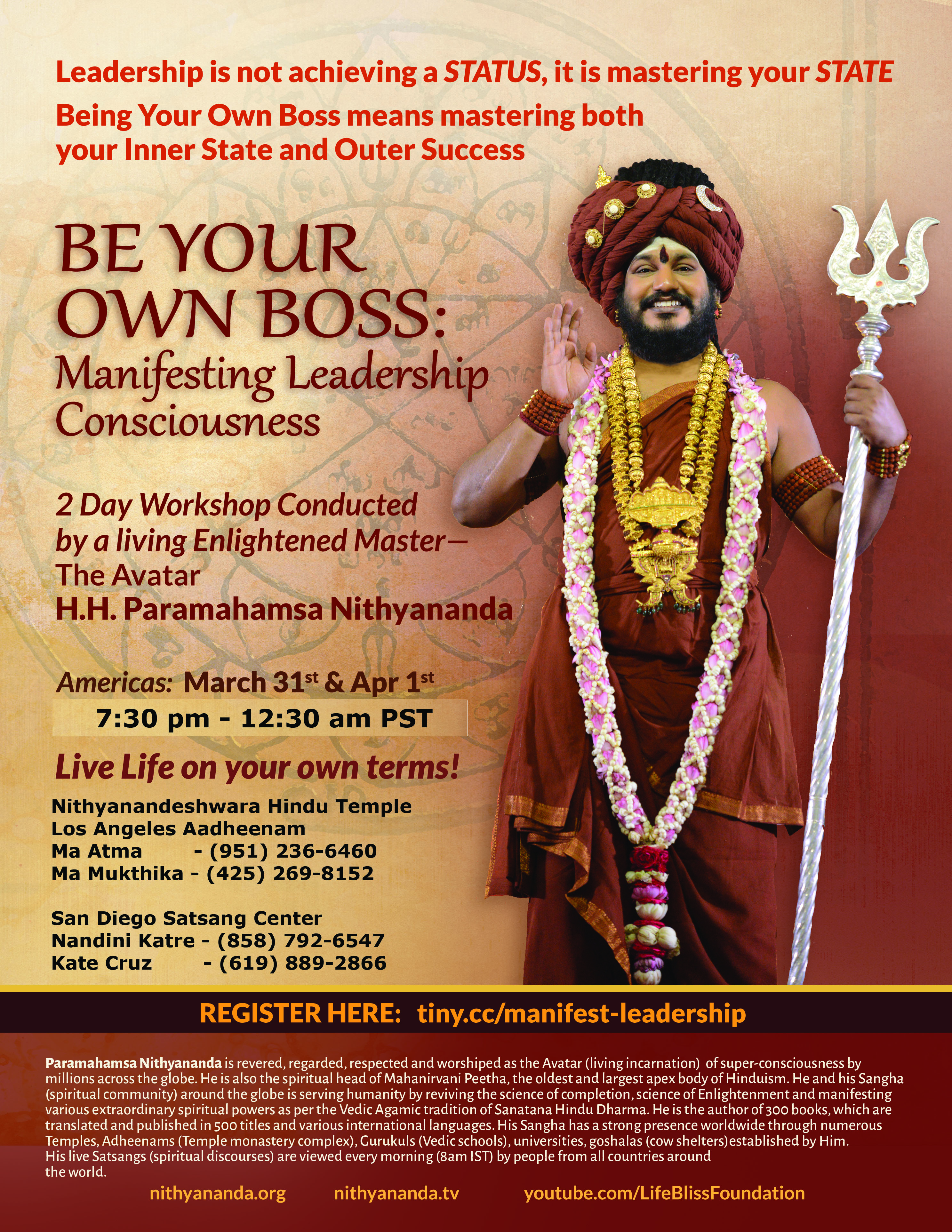 The ONLY workshop that unleashes MASSIVE SUCCESS in your outer life by raising your inner Consciousness. Conducted live by a living Enlightened Avatar!
Leadership is not about achieving a STATUS; it is about mastering your STATE! Being your own boss means:
Being a master of your Inner State • Living life on your terms • Achieving unstoppable success • Inspiring others around your vision
#1 Be a master of your Inner State – having deep inner peace & unshakeable confidence, KNOWING that you are born with a divine right to manifest what you want in life.
#2 Live life on your terms – using 100% of your creative energy for YOUR GOALS and being in total control of your life.
#3 Manifest unshakeable confidence – in career, relationships and life purpose – without having fear or insecurities ever.
#4 Inspire others to rally around your cause and vision.
This workshop is for:
• Women & Men who want to live an independent life, not depending on others for money or love
• Spiritual seekers who want to create a lifestyle that enables and nurtures their spiritual seeking, travelling, and experiences, instead of works against it.
• Professionals who want to live the spiritual truths while successfully running their day-to-day affairs.
• Businesspeople & aspiring entrepreneurs who want to use 100% of their creative energy for their goals
• Professionals looking to have a quantum leap in success, not just normal growth
• Students & youngsters who are thinking about how to create their life of their dreams
• Anyone seeking to be a leader for others
In this workshop you will learn:
• How to be your own boss and become captain of your life instead of working for others.
• How to be the master of ALL aspects of your life, not just your business.
• How to awaken total leadership Consciousness – the state of being responsible and in Oneness with everything, so the Cosmos just responds to your wants and desires.
• How to gain mastery of yourself to unleash unstoppable confidence and success in the leadership field
REGISTER NOW!!!
Early Bird Discount till February 19th, 2017 – $49 (limited time discount)
http://innerawakening.org/be-your-own-boss-los-angeles
Locations in Los Angeles Area include:
– Montclair Nithyanandeshwara Hindu Temple: Ma Nithya Atma 951-236-6460
– San Diego: Kate Cruz 619-889-9974