Be Your Own Boss: PART 2
April 29, 2017 @ 6:30 am

-

April 30, 2017 @ 12:00 pm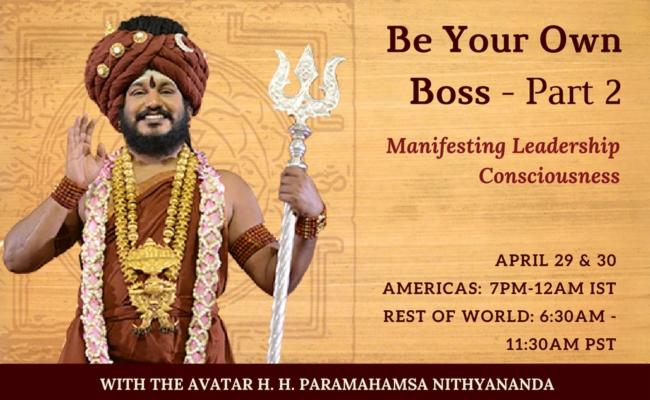 Back by overwhelming demand, with so many people being inspired to be their own bosses or expand their already existing business… now the follow up to 'Be Your Own Boss' workshop is happening, conducted by H. H. Paramahamsa Nithyananda himself! FREE AND OPEN TO ALL!  (NOTE:  This workshop is over 2 half day sessions on April 29th and April 30th, from 6:30am to Noon on each day)
Register Here:
https://innerawakening.org/beyourownboss2
You will learn how to:
BE A MASTER OF YOUR INNER STATE:  Having deep inner peace & unshakeable confidence, KNOWING that you have a divine right to manifest what you want in life.
LIVE LIFE ON YOUR OWN TERMS:  Using 100% of your creative energy for YOUR GOALS and being in total control of your life.
MANIFEST UNSHAKEABLE CONFIDENCE:   In career, relationships and life purpose – without having fear or insecurities ever.

This workshop is offered complimentary to all – for FREE, at no charge – anyone can attend. Take the first step towards being your own boss, by completing your registration for the 2-Day Spiritual Workshop on Leadership Consciousness
https://innerawakening.org/beyourownboss2
Be Your Own Boss: Part 2: Manifest Leadership Consciousnes
2 half day sessions:
April 29 & 30
Americas: 6:30am – 11:30am PST
COMPLIMENTARY FREE ADMISSION
Sign up to see list of local centers where the workshop will be hosted live over 2 way video conferencing.
"Perfection means not letting your tiredness or boredom enter your passion to deliver."
"If you are working for somebody, you will learn only one thing, to give your time. You will never learn the taste and joy of what it is to give your energy along with your time."
H.H. Paramahamsa Nithyananda